First of all, here's a little message for me from the Head Coach of Essence Extreme, Shannon Thompson, after we finished recording:
Indeed, some great advice. When I told Shannon and her coaching partner Jeanette Morris that I could edit, they relaxed and let it fly. This conversation is what this blog is all about. These two guided their AAU squad through the unknowns and unpredictables of the summer of 2020 to a 28-3 record, including a 5-0 run in a regional tournament representing Georgia that included teams from Texas, North Carolina and more. And now they're playing volleyball. Football season won't start any sooner than September 18, as far as we know now. You might have heard that Fulton County decided to move their season start back two weeks, which means South Forsyth misses its first two games because they were to be vs Roswell at home and at Cambridge; both Fulton County schools.
Doug Thomas and I will catch up with SOFO Head Football Coach Jeff Arnette next week. So I have some time. Some of you might remember the interview we did just a few weeks ago with South's Asst Head Football Coach Troy Morris, who told me this little story of travelling this summer with some girls playing hoops. I dug a little deeper and discovered there is a great story here, so I bugged Jeanette until she and Shannon agreed to the interview request. I said, 'set a time and we'll meet at the Black Diamond Grill. I'm buying." How could they refuse?
The friendly confines of the BDG, where Hailey says come see us!
This is a remarkable blog because it carries two stories, actually. The first story is about how these two moms, whose daughters happen to be sophomores and picked up the ball in the 2nd grade together, molded an AAU unit that, amidst the Coronavirus Pandemic, managed to excell.
(Top left to right), Ava McGlockton draws a crowd, and ends up on the line. Center right, Clara Morris finds room in the lane, (bottom row) Sharon Tolliver toes the line, (Center) Maggy Thompson sizes up the D, (right) the SOFO FOUR hold the trophy for their US Games title. (L-R: Ava, Sharon, Maggie and Clara) (Bottom center and right) two championship rosters, with Coach Morris on the left and Coach Thompson on the right in each..
The second story is unique and therefore interesting in that these two moms, along with another, we'll tell you who in a minute, each have a son on the football team and a daughter on the basketball team. Besides the Thompson and Morris siblings, there's Ava and Devin McGlockton. You might have heard of Devin. He's potentially all state in football and basketball. Congrats to Mrs. McGlockton for her contribution.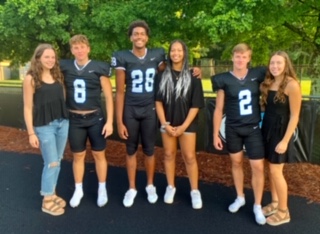 And so without further ado, let me present to you a couple of ladies after my own heart. Hoops Chicks! Shannon Thompson and Jeanette Morris. This is a lot of fun and it accomplishes my goal: to shine a light on the players, coaches, and families that work so hard to be great at sports in our beautiful community. Sometimes the road is a little weird. For more in that vein, click the go arrow. Enjoy!
Thanks for logging on. Here are a couple of quick takes from the photo galleries of our coaches.
From left: The Thompsons. Coach Shannon, WR Mitchell, Dad Matt and PG Maggie. They say Matt, an environmental insurance agent with Chubb, is so cognizant of not helicoptering Mitch that he'll show up for games a few minutes late. Next, Shannon and Maggie show that sometimes you just gotta be DAWGS! Next, The Morris clan. You notice that they always seem to be around water? Athletes LOVE the water. Pictured from left: Clara, Drew, Cal, Dad Coach Troy, Mom Coach Jeanette, and Gavin. And finally, Mitch shows great Thompson love for Maggie as she goes for the title.
Thanks so much for joining us! It was a blast putting it together and even more fun actually doing the interview. Remember, a good host knows it's all about his guests, and Shannon and Jeanette were all about it. Tell me what you thought. Send your comments to greg@forsythsports365.com.
Next week Doug Thomas and I will sit down with Coach Arnette and talk a little football. He thinks he might have some information on South's response to Fulton County's decision to pull back the season, leaving the War Eagles with two more byes the first two weeks. But he's not COMPLETELY sure. Look for our next podcast to see if there are any new questions or answers.
Until then, thanks for logging on to Forsyth Sports 365.com.
One last thing. 3/4 of the way in I dropped my (micro)phone as Shannon came to the end of her sentence. Here is the edited clip. Look how calmly Shannon did the repeat and then how seamlessly I pulled it together. Remember, the line is "We were doing a lot of yardwork."
See you next time. 🙂