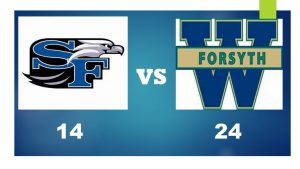 When adversity rears its ugly head, a football team can hit a wall.   This might be the case with South Forsyth.  Expectations at South are always high, and this season was no exception.  So what that a third – 65 players – from the rising 2018 roster were relocated to the new Denmark High School.   That will definitely help the student body overall, but there are plenty of talented athletes returning.  South can overcome that.   But then an uncanny slew of injuries began minutes after the season opening kickoff.  Starting safety and one of four team captains, Jack Pehrson, tore a knee in the first quarter of the first game and the blight was on.  Coach Jeff Arnette admitted in his mid week interview prior to the West Forsyth game that in his entire career as a position and head coach, he'd never seen anything like it.  Which can lead to young players not quite ready asked to pull major minutes, and starters asked to go both ways, Like Captains Jamal Camp and Luis Gonzalez pulling extra minutes on the offensive line.  Understandably, this can gas a team, and with just an extra second, you get a 70 yard score through the air at Central, or let the back up qb from West complete a series of long bombs that in the earlier part of the schedule would have been impossible because without that extra second the qb would be on his back.  It happens to every team, at every level, when the perfect storm hits.  And it caught up with South after the Lambert game.  The comeback against North was exhaustive, as any of the players will tell you.  The War Eagles were able to come away with the memorable 35-34 victory after digging a 24-7 hole, but the effort burned a lot of energy, and the holes that were dug against Central and West were ultimately too deep.  South had just enough in the tank to finish in fourth place in the region, good enough to make the playoffs but shy enough to earn a date with a beast, Top Ten regular Grayson, in the opening round.   Region 5 has been matched up with Region 7 this year, not Region 6, so the opponents are scary across the Board.  Milton, #1 in Region 5, welcomes Region 8 #4 South Gwinnett to their Eagles' Nest.  West, #2 in Region 5, welcomes Region 8 #3 Newton to the Den.  Central, #3 in Region 5, travels to Region 8 #2 Archer.  And of course, South as David travels to Region 8 Goliath #1 Grayson.  On what is expected to be a rainy night in Georgia, any team that can win in this first round can pull off a miracle.
Many apologies for the delay in posting this replay of the South/West contest.  The game has lots of energy and a bunch of highlights, many from the visitors side.  The reason for the delay will not sit well for many of our followers, however, as it has to do with a team that is holding the Georgia Bulldogs back; the Michigan Wolverines.  You see, Michigan just finished a portion of the schedule that had many wondering if it was a Big Ten conspiracy.  The Triple Headed Monster in the Middle:  Wisconsin, at Michigan State, and Penn State.   How would Michigan get through that?   By riding the Revenge Tour bus, that's how.  In this span that many in the preseason proclaimed UM would not survive, the Wolverines outscored these opponents 101-27.  The defensive effort has Michigan in historic territory, even for them.   Yeah, I've spent most of the last couple of days watching the YouTube edited version of these games.  It's how I roll.   Bring on Rutgers.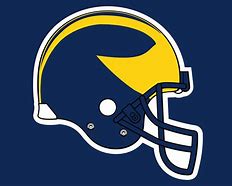 So here is the replay of West Forsyth's hard earned victory at South Forsyth.  We've got performances from both bands at the half, and a terrific game where both contestants left it all on the field.    Listen to the replay here:
http://mixlr.com/forsyth-sports-365/showreel/west-forsyth-at-south-forsyth/
Wednesday afternoon we'll have our midweek interview with Coach Arnette, where we'll get his take on what it will take to avoid an early exit at Grayson.  Hey, they've got TWO losses this year.  They're certainly not unbeatable.
Thanks as always for checking in to Forsyth Sports 365!