TUESDAY THOUGHTS FROM THE GOLDEN ARMCHAIR
It was an exciting and telling evening of Region 5 Class 7A football last Friday night as the teams continued to square off against each other. One thing is clear. Milton, with its convincing 35-21 victory over South Forsyth, is clearly the top gun. Georgia Tech commit Jordan Yates, the Eagles' outstanding dual threat quarterback, was held in check for the first half as the offense tried to control the clock and the tempo. The result was a 6-0 halftime lead. But after South took a
7-6 lead in the first minute of the second half after a Milton fumble, Coach Adam Clack rolled the air attack out of the hanger. Helped by a flurry of War Eagle fumbles, Yates unveiled one of the finest arms in the state, hitting his trio of cloned 6-3 receivers one after the other in stride and into the end zone to build a 35-7 lead.
To their credit, the War Eagles never quit, and whether Clack took his foot off the gas or not, they found something that could and should come in handy the rest of the way: a spread attack. The stretch formation allowed quarterback Drew Morris to show off his own dual threat capabilities, running for first downs and throwing for two late scores to make the final much more respectable. Mississippi State baseball commit Landon Simms had a terrific stat line in his final season on the gridiron. Simms had nine tackles, forced and recovered a fumble, and snatched an onside kick. Then on offense, Simms caught three balls for 44 yards and a touchdown. This season, South Forsyth has played three of the finest teams in the state in Milton, Hillgrove and Blessed Trinity. While all three show up as L's on the board, South knows where they'll have to improve should they (and they likely will) make the playoffs. Milton improves to 2-0 in the regions while South falls to 1-1.
Forsyth Central came into its game at home against West Forsyth at 5-1, but 0-1 in Forsyth County, their only blemish coming at the hands of new member Denmark. Make that now 0-2 in Forsyth County. West found its defense in keeping Central's improved option attack out of the endzone in a 39-0 win. It was quite a turnaround for the Wolverines after being shut out themselves the previous week by Milton. Everybody contributed. Abe Camara had 94 yards receiving and three tfl's, Saxby Waxer rushed for 94 yards and two touchdowns, and quarterback Drew Southern threw for more than 200 yards and two touchdowns and ran for a third. It was a punch in the gut for Central, where the Bulldog's 5-1 start was their best in at least 25 years. West improves to 2-5, but in the hunt for a playoff berth. Central falls to 5-2. The result puts both teams at 1-1 in the region.
North Forsyth rode the return of Senior running back and three year starter Bryson Trigg to a win over Lambert. Trigg topped a hundred yards on the ground in his first game back from a broken collarbone and added three touchdowns, two on the ground and one through the air in the Raider's 28-14 win over the Longhorns. North improves to 3-4 overall and 1-1 in region play. Lambert fell to 3-4, 0-2 in the region.
And so the plot thickens as the teams position themselves for a playoff berth against the top four from Region 6. Here's a look at the current standings:
Region 5                                               Region 6
Milton 2-0 Region, 5-2 overall                 North Gwinnett 4-0 Region, 6-2 overall
S. Forsyth 1-1 Region, 4-3 overall           Mill Creek 3-1 Region, 5-3 overall
Forsyth Central 1-1 Region, 5-2 overall   Collins Hill 2-1 Region, 2-5 overall
North Forsyth 1-1 Region, 3-4 overall     Mountain View 2-1 Region, 5-2 overall
West Forsyth 1-1 Region, 2-5 overall      Duluth 1-2 Region, 3-4 overall
Lambert 0-2 Region, 2-5 overall             Peachtree Ridge 0-4 Region, 0-8 overall
Discovery 0-3 Region, 1-6 overall
This Friday's headliner is The Civil War, as North Forsyth invades South Forsyth. Both teams are 1-1 in the region, so the opportunity for bragging rights is outdone only by the opportunity for a better match in the playoffs. The matchup between running backs Bryson Trigg of North and Jordan Brunson of South adds a terrific sub plot to this annual dog fight. We'll have this game LIVE for you Friday night at 7 right here on Forsyth Sports 365.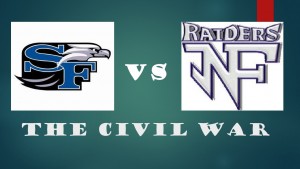 Forsyth Central travels to Milton to see if it can find its mojo after the disappointing shutout loss at home to West Forsyth. They'll need their time- consuming option offense to stay on the field and score some points to keep up with the Eagle's high octane RPO. A win by Milton puts them in the driver's seat for a Region 5 title. A loss further muddies the waters.
Lambert needs a win at West Forsyth to stay with the pack. Already 0-2 in the region, a loss would effectively end the hunt for a playoff berth for the Longhorns. West Forsyth, meanwhile, has found new life with its unexpected shutout win at Central. Now 1-1min Region play, the Wolverines are in the thick of things and a win would set a new glow in the Den.
As always thanks for checking in to Forsyth Sports 365!