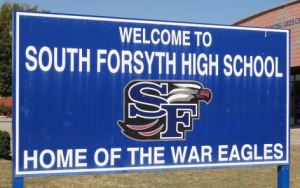 South Forsyth Head Coach Jeff Arnette isn't playing up to the narrative that Hillgrove was a much bigger, faster team than his War Eagles.  He says it was too many mistakes that led to the 36-14 road loss to the Hawks at their Homecoming.   But it was clear to observers that the Hawks are the #10 team in the state, with a bullet.  Coach Arnette shares with us what he hopes to accomplish during this off week, and a few surprises, too!  Catch our interview with Coach Arnette at the bottom of the blog.  And if you like to learn from your losses, enjoy the replay of South Forsyth's clash with Hillgrove here.
http://mixlr.com/forsyth-sports-365/showreel/south-forsyth-at-hillgrove/
Hi there, and greetings from the Golden Armchair in Fall Break week. There was no Monday Musings this week because thanks to the break, there are no Forsyth County teams in action. Except Denmark. They'll be playing 1-4 West Hall Friday night. So we'll start there, because the Danes had a pretty remarkable performance last Friday. QB Ben Whitlock and Receiver Ze'vian Capers pretended they were Joe Montana and Jerry Rice, hooking up for five touchdowns in their Region 7 4A opening win over Chestatee. They'll get to try that again Friday before welcoming Region rival and defending 4A state champ Blessed Trinity to Great Daneville on October 5th.  Better work on pass pro, and watching your backside.
In Region 5, 7A, the big story is Forsyth Central. After suffering through 16 straight losses that included the entire 2017 season, the Bulldogs enter region play at 4-1. That's the best record of any team in the region coming in to region play. Including pre-season favorite Milton. They have this week to sharpen the potent option offense of Coach Frank Hepler before travelling north to Raider Valley to tangle with North Forsyth. North is a somewhat disappointing 2-3 so far, with two of the losses coming back to back on the road in the last two weeks; at Kennesaw and at Woodstock. No doubt the Raiders will be happy to return home October 5th to see if these Bulldogs are truly Big Dogs or just a bunch of noisy pups.
The aforementioned Milton Eagles were flying high two weeks ago with a 3-0 record and Top Ten ranking, thanks in large part to a week one win over 7A playoff regular Archer. But the squad has returned to Earth after suffering back to back losses on the road to a pair of ascending teams in Roswell and Parkview. They'll be playing October 5th at West Forsyth, who finished their ambitious pre-region schedule with a loss in Chattanooga to McCallie High. The Wolverines rivalry with Milton is based on the departure of former Head Coach Adam Clack, who bolted for Milton before last season. That motivation has lost it luster over time, but the 1-4 Wolverines will need to draw from something to pull a W from this matchup with the talented Eagles.
Finally, the Region 5 7A opening slate features the Backyard Rivalry, with South Forsyth traveling down Peactree Parkway to Sharon Rd/Old Atlanta to tangle with Lambert. Both teams enter Region play at 3-2.  These two schools have combined to win the last three Region titles. They feature stout defenses but inconsistent offenses, which could result in a low scoring affair. South fans might be feeling a bit put upon because they're playing the rival that cut into their football team a decade ago with the new school district alignment, and of course they're playing with a roster that's been cut by the same thing AGAIN. The only team effected by county growth TWICE. But as South Coach Jeff Arnette told us back in August, it is what it is. The winners of these openers will have a lot to say as Region 5 play roars through August.
This is where I had posted this week's interview with Coach Arnette.  However, as War Eagle Nation member Scott Kugleman pointed out, the interview cut off at just 1:20.  Upon further review, I'm an idiot.  In mixing the tracks I pull over just a minute or so of the interview to set audio levels.  Then I go back and mix in the whole thing.  This time I didn't get the whole thing.  I just saved what I had.   My bad.  Y'all deserve better, and I promise to have a make good interview with Coach next week.  In the meantime, enjoy the rest of Fall Break and thanks again for checking in to Forsyth Sports 365!