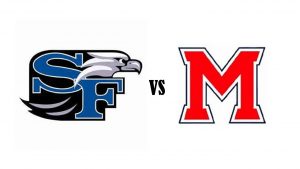 If you like gutsy performances, effective halftime adjustments and down to the last minute drama in your football, then this is the second in back to back games that provide just that.  And both involve the Milton Eagles.
First up, though, please accept my apologies for the tardiness of this replay post.  My daughter Becca's fourteenth birthday was Friday.  I dropped her off at Liberty Middle at 8am and didn't see her again until Saturday morning.  We did some gifting then hustled off to the Cheesecake Factory for our birthday dinner with her; then it was on to the fair.  So yeah, I've been a little tied up.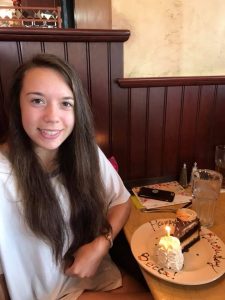 HAPPY 14TH BIRTHDAY BECCA GOLDEN!
But here it is!  The replay of a well played football game between South Forsyth and Milton, from Milton High, our first ever live podcast from outside Forsyth County, Georgia.  And what a thriller.  South did what they do in the first half, running a straight ahead offense featuring Senior RB Jared Honey and Senior QB Cal Morris.  Honey score two touchdowns and Morris a third on a beautiful 35 yard scamper after faking to Honey.  The War Eagles went to the locker room leading 21-6 and looking like they were poised to run away with another one.  But something happened in the Milton locker room.  Head Coach Adam Clack got the whole team to agree they were not going to let Honey beat them as he has so many others.  They cam out in the second half and stopped South cold, forcing a punt on the opening possession.  Then they marched 70 yards in ten plays, finishing with the amazing Solomon Vanhorse (Vanhorse the Workhorse, thank you Jon Benson III) to cut the lead to 21-13.  What ensued was a gutsy a performance on both sides of the field as you'll ever see.  But Milton, the survivor in last week's heart stopper, fell short in this one.  Listen in to the replay and get the takes of a few guests, and of Course the Sports Freak, Richard Golden, bringing his expert, excellent commentary to Homecoming at the M.
It's all right here in our exclusive replay from our exclusive call as South Forsyth cemented its hold on first place in Region 5, Class 7A.  Thanks to all who tuned in, and now, enjoy!  From your friends at Forsyth Sports 365, and the Feet First Foundation.
http://mixlr.com/forsyth-sports-365/showreel/southforsyth_at_milton_1013/