Yes, you read that right. Replay(s). About sixteen of them. North Forsyth's Raider Valley stadium is a tough place to pick up a T-Mobile wireless tower signal. Again. It's been this way every time I've tried to go live from that location. However, the last time out there was 2 years ago. I had read on a T-Mobile promotional email that they were adding some kind of booster near the new Wal-Mart on Matt Hwy. So I was looking forward to a strong wifi presence. At least improved. Nope. Same ol' same ol'.
Here's my freehand look at the essence of the problem: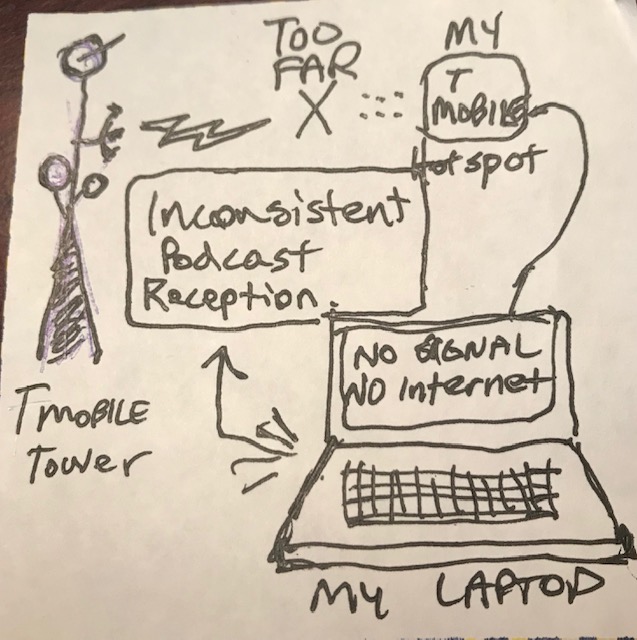 So the T=Mobile tower sends out the signal. It is too far from the hot spot receiver. Or there is only one or two and they are overloaded. Either way there is a diluted signal in the area. It's like when you're listening to your favorite FM radio station while you head to the beach. You get 50-60 miles away from the tower and the signal begins to fade in and out. Same thing here. And when the signal got real thin, my streaming software would stop recording, and would then start a new recording when the signal returned. All of this beyond my control.
So Doug and I pressed on and here is the result. It's not all here but most of it is. Enjoy what you can of what turned out to be a display of the emerging North Forsyth Raiders, led by Senior D-1 bound receiver Nikki Dalmolin. The kid runs like a deer. And thank you all so much for your patience. Most of you hung around until it was pretty much over. I promise you there will be no such issue on Senior Night or the finale at West. Both have shown to be well within the presence of a T-Mobile tower.
1-5 is mostly pregame. Kickoff is somewhere within the two.
http://mixlr.com/forsyth-sports-365/showreel/south-forsyth-at-north-forsyth-1/
http://mixlr.com/forsyth-sports-365/showreel/south-forsyth-at-north-forsyth-2/
http://mixlr.com/forsyth-sports-365/showreel/south-forsyth-at-north-forsyth-3/
http://mixlr.com/forsyth-sports-365/showreel/south-forsyth-at-north-forsyth-4/
http://mixlr.com/forsyth-sports-365/showreel/south-forsyth-at-north-forsyth-5/
http://mixlr.com/forsyth-sports-365/showreel/soutth-forsyth-at-north-forsyth-6/
http://mixlr.com/forsyth-sports-365/showreel/south-forsyth-at-north-forsyth-7/
http://mixlr.com/forsyth-sports-365/showreel/south-forsyth-at-north-forsyth-8/
http://mixlr.com/forsyth-sports-365/showreel/south-forsyth-at-north-forsyth-9/
http://mixlr.com/forsyth-sports-365/showreel/south-forsyth-at-north-forsyth-10/
http://mixlr.com/forsyth-sports-365/showreel/south-forsyth-at-north-forsyth-11/
http://mixlr.com/forsyth-sports-365/showreel/south-forsyth-at-north-forsyth-12/
http://mixlr.com/forsyth-sports-365/showreel/south-forsyth-at-north-forsyth-13/
http://mixlr.com/forsyth-sports-365/showreel/south-forsyth-at-north-forsyth-14/
http://mixlr.com/forsyth-sports-365/showreel/south-forsyth-at-north-forsyth-15/
http://mixlr.com/forsyth-sports-365/showreel/xsouth-forsyth-at-north-forsyth-16/