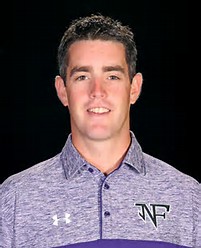 NORTH FORSYTH HEAD COACH ROBERT CRAFT
North Forsyth Head Football Coach Robert Craft is no stranger to big games.  His career as a player and coach at North Florida Christian High in Tallahassee was dotted with big moments as the school was and is a regular in the Florida High School football playoff scene.  But for the players, boosters and fans of Raider Nation, where Craft is in his second season, a big game has been absent for a little while.  And certainly in this matchup, North Forsyth vs South forsyth, know affectionately as "The Civil War".
Well, this one should quench their thirst.
Both teams enter the 2017 version of the Civil War with 2-0 records in Region 5 Class 7A.  South Forsyth has one of the top ten defenses, statistically, in the state.  North Forsyth has one of the top ten offenses, statistically, in the state.  In fact, Senior Quarterback Ben Bales is, statistically, one of the top three quarterbacks in the state.  We've quoted his numbers often in the pre game hype, and we'll continue to do so.  In fact, we'll do it right here:
2100 yards (300/game);  62% completion rate;  21 TD/6 INT;  TD tosses to 6 different receivers.  "I hope", Coach Craft chuckled, "that Ben doesn't see this article."  What he means, of course, is he doesn't want his quarterback worried about his numbers.  In our interview below, however, Coach Craft points out that Bales is actually more worried about the W than anything else.
The evening in Raider Valley also includes the emotional dedication of the school's new weight room to late Coach Jim Bishop, who's career in the county touched many many lives.  Coach Craft gives us a bit of insight into the dedication, the effort behind it, and the man to whom lasting recognition will be bestowed.
So give a listen as Raider Head Coach Robert Craft shares his take at this point in the season.  And, not coincidentally, at this point in his career at North Forsyth.  "We certainly believe we've made a great hire", North Athletic Director Scott Tindle told us in a preseason interview.  "We're looking for big things from him and the team."
Playing a playoff atmosphere game against their cross county rival with first place in the Region on the line at home in Raider Valley might be a step in the right direction.  And we'll have it for you, LIVE Friday night, pregame at 6:30, kickoff at 7:30, right here on Forsyth Sports 365.com.
Enjoy our conversation with Coach Craft heading into Friday's big game right here: