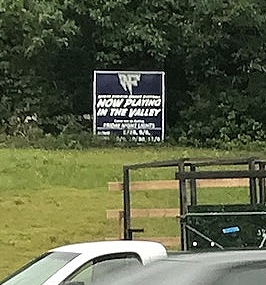 As you're sitting at the light on Ga 369 at Ga 400, heading eastbound onto Brown's Bridge Rd or turning onto southbound 400, there is a sign above the freeway that informs you of activities "Now Playing in The Valley".  Raider Valley, to be exact.  That's the football field on the north end of North Forsyth High School, home of the aforementioned Raiders.  The Class AAAAAAA, Region 5 squad plays at, in our opinion, one of the finest football facilities in the state, and that fact is not lost on Athletic Director Scott Tilden and Head Football Coach Robert Craft.  When the lights go on on a Friday night, and that stadium fills up with screaming Raider fans, they know it's because of the community support they enjoy in Forsyth County's North End.  It's Raider Nation.
We can't recall seeing a sign like this at the intersection of Bethelview and Canton Highway.  Or Windward Parkway and Old Alabama.  Or Ronald Reagan and Peachtree Parkway.  Or anywhere near downtown Cumming.  It's the community in the north end that made that happen.  North Forsyth pride.  Rural representation.  Both Tilden and Craft speak to the appreciation of that community in our pre season chat with the two, set into three parts below.  Both say that community is what drew them to the school in the first place.
AD Tilden, along with former NFHS AD (now Forsyth Schools AD) Nathan Turner, began a quest a few years ago to bring the old mare up to modern standards.  For the last two years, the campus of North Forsyth has been a little dusty as construction crews fashioned a new look for the second oldest school in the county.  Now that the dust has settled, Coach Craft, in his second year, has a fine new football fieldhouse to train his Raiders in, and Coach Tilden has a fantastic new gymnasium, Raider Arena, to host his basketball and volleyball teams, in addition to summer tournaments.  Visitors will see a fantastic new face on an old friend.
So enjoy the visit with these two pillars of the community.  It was the community around North Forsyth High School that drew them in.  Now it's them drawing that community into the new and improved North Forsyth High School.  Raider Nation, better than ever.
And Class AAAAAAA, Region 5 is better off for it.
NFHS AD Scott Tilden                NFHS Head Football Coach Robert Craft
Tilden/Craft Part One
Tilden/Craft Part Two
Tilden/Craft Part Three