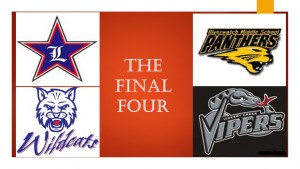 In an exciting afternoon of football in Forsyth County, the two teams heading to the championship game were determined in a pair of hard fought contests.  At The Pit at Vickery Creek, Coach Jeff Brumbelow's #3 seed Riverwatch Panthers continued their resurgence, upsetting the #2 seed Vipers 28-14.  Riverwatch surprised the hosts with a West Coast offense, directed by quarterback Peyton Rich, that rang up over 200 yards and three of their four touchdowns through the air.   After a 1-2 Start, the Panthers have won six in a row. Riverwatch is looking for their fourth county title since 2009.  They've won in every odd year; 2009, 2011, and 2013.  Could their remarkable resurgence keep the streak alive in 2015?  We'll find out in next Tuesday's Title Game.
Standing in their way is defending Champion North Forsyth Middle.  In our feature game here on 365, Head Coach Ty Carnes directed the Wildcats to a complete game.  The offense piled up more than 200 yards on the ground.  Fullback Klay McBrayer busted up the middle time and again to keep the chains moving, wingback Nicki Dalmolin converted three 2 point conversions and a typical 80 yard touchdown run on a jet sweep, and quarterback Noah Gilbert played turnover free (again) and scored twice on quarterback keepers.  Defensively, the team gave up yardage to the determined Liberty squad between the 20s, but stiffened in the red zone to record the shutout.  And special teams twice forced the Patriots to start drives inside their own five yardline after a kickoff.
North Forsyth takes on Riverwatch in the 2015 Championship game next Tuesday, October 27th, at 6:30. The game will be played at South Forsyth High School, and hosted by Lakeside Middle.  Forsyth Sports 365 will carry the game live beginning at 6.  Listen to the REPLAY of North Forsyth's win over Liberty, including coverage of Riverwatch's win at Vickery Creek, by following this link.  The podcast begins 12 seconds in.  Many thanks to Jim'n'Nick's BBQ, at the Collections off Exit 13, for their sponsorship of the 2015 Forsyth County Middle School Football Playoffs on Forsyth Sports 365.