Hi South Forsyth High made it official today.  South's Athletic Director Keith Gravitt sent out the announcement first thing Monday (12/21/2020) morning.   War Eagle Assistant/Associate Head Coach Troy Morris has been named the next Head Football Coach at South Forsyth High School.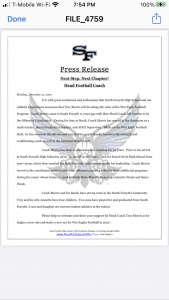 When I saw the announcement, sent to me from my partner Doug Thomas, the stadium voice for the War Eagles,  I leapt in the air as I have so often for the efforts on the field.
Seriously, there really was no other choice.
Morris has been Retiring Head Coach Jeff Arnette's right arm for eleven years at South.
Troy Morris.   It's a good name.
Put on your Cowboy hat and Leathers.
There is some Hollywood in that name.
So he's marketable.
And the rest is South Strong.
Morris has been a central figure in the construction of the schools new weight room.   He is THE weight room coach.   The difference has been noticeable on the field.  That probably took 4 years from inspiration to ribbon cutting.  A brilliant execution.  Morris has been prepped for this gig.   There really is no other choice
That's one of the topics we'll bring up when we catch up.  ***EDIT!   We'll get Coach Morris to join us Tuesday afternoon for our Christmas Coaches Corner!  This is a big deal!  Morris is always a pleasure to chat with and we'll have it for you to unwrap soon!   We'll record and post it as you watch Saturn and Jupiter sink into the sunset.
indeed, it seems the stars have aligned for this transition
Thanks as always for checking in with Forsyth Sports 365!
See you soon!   Merry Christmas!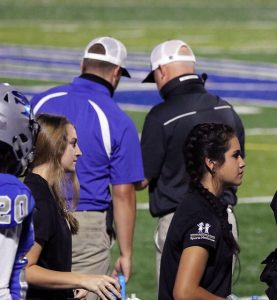 New South Forsyth Head Football Coach Troy Morris (left) huddles with then head coach Jeff Arnette as staff moves stuff when they change ends in the 3rd quarter.  Do you think Arnette is asking "what would you like to do when it's yours?"