GREG GOLDEN AND DOUG THOMAS CHAT WITH SOFO HEAD FOOTBALL COACH JEFF ARNETTE IN THE LATEST COACH'S CORNER!
Pregame Festivities and a Zebra Sighting!
MORE POINTS AND YARDAGE TO DROP JAWS ACROSS THE STATE!
      WHY COULDN'T LAMBERT MOVE THE BALL?        DEEEEE-FENSE!!   LIKE THIS SAC!
THANKS TO DAVIE UIDEL FOR THE AWESOME PICS!     DAVEUIDEL@SMUGMUG.COM

    MAP TO COVINGTON AND HOMER SHARP STADIUM.
Get to I-20 East then to Exit 90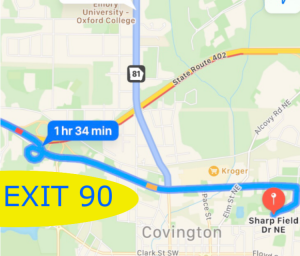 FOLLOW TO MILL ST, TURN RIGHT, THEN RIGHT TO VISITORS SIDE.