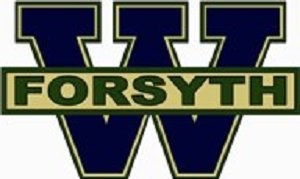 West Forsyth High School head football coach Adam Clack and Forsyth Sports 365 program director Greg Golden have announced a joint venture that will bring fans close to the action during this month's spring football practices at the school. Inside West Forsyth Spring Football will have full access to Coach Clack's program as the Wolverines prepare for the 2016 football season as members of the new Super 44 in Class 7A, Region 5. The new 6 school region includes the five Forsyth County High Schools; West, South, North, Central and Lambert, and Milton High.
Inside West Forsyth Spring Football on Forsyth Sports 365 will feature interviews with the coaches, staff, players and boosters as spring ball proceeds from May 9th through the annual Spring Game in The Den on Friday night, May 20th. The Spring game will be called live by Greg Golden, with a host of guests. The spring session will wrap with a live podcast, "Coach Clack's Corner" show with Greg and Coach Clack on Sunday, May 22nd, at Castleberry Ale House on Bethelview Rd. Guests will be featured and everyone's invited to attend.
"West Forsyth High is very excited to represent Forsyth County high school football with this inside look into our Spring Program, including the live podcast of our annual Spring Game in the Den", said Coach Clack. "Greg does outstanding work in his coverage on Forsyth Sports 365, and we are honored to be the featured school to represent the hard working athletes of Forsyth County."
Log on to forsythsports365.com beginning Monday, May 9th, for a look "Inside West Forsyth Spring Football". Exclusively on Forsyth Sports 365!