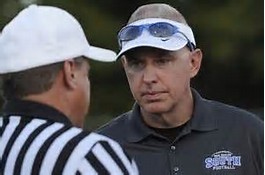 South Forsyth's Jeff Arnette knows he's in rarified air.  The Head Football Coach of the War Eagles saw the Georgia Sportswriters Association promote his 4-0 squad to a lofty #4 ranking in this week's Class AAAAAAA poll, tied with Tift County and ahead of such playoff regulars as #7 Mill Creek, #9 McEachern, and this week's homecoming opponent, 10th ranked Lassiter.  Anybody who pays any attention at all to Georgia High School football knows these are schools that win Region championships, win their way deep into playoff runs, and send dozens of their players to NCAA Division 1 schools.  Usually at the expense of Forsyth County's finest.  And here are the War Eagles at #4.  Pretty sweet, huh, Coach?
"We're very excited to be where we are", says Arnette in this exclusive Forsyth Sports 365 podcast interview.  "We've won a lot of ball games over the last couple of years, built a good record at home, our kids have worked extremely hard and we're happy to be here with this opportunity to play a really good Lassiter team at home with some bragging rights on the line."
Coach Arnette joins Greg Golden to talk about getting to this point in the season, what lies beyond, and why this game means more than just state rankings.  You can listen to the 11 minute interview here.
#10 Lassiter visits #4 South Forsyth for Homecoming Friday night.  Kickoff is at 7:30, our live podcast begins at 6:30.  Be sure to log on to forsythsports365.com, on your phone, tablet, laptop or PC, and scroll down just below the headlines to the Mixlr live stream box.  Click the arrow to join and enjoy the call.  Thanks as always for visiting Forsyth Sports 365!