Well, it's finally here!  This massive Forsyth County Spring Football Report, compiled by our staff of one (me) is finally ready to hit the web.  Thanks so much to the head football coaches around our beautiful county.  With their outstanding effort, we can present to you this feature, loaded with exclusive unique takes.  We've got full on interviews with all six of our head football coaches, each a minimum of fifteen minutes.  That should be enough to satisfy football fanatics for at least one morning or afternoon sitting in traffic. Oh, and if you list the coaches alphabetically, you don't get past the letter H!   Isn't that crazy?  Hmmm, maybe it's just me.   Thanks so much for checking in to our podcast loaded spring feature. Be sure to give us a like if you haven't already.   if you have, much obliged!     Here we go!
SPRING FOOTBALL IN FORSYTH COUNTY in 2018 has a couple of headlines.   The first is the redistricting.  No school is more affected by this than South Forsyth, where their new line with Denmark has reduced their incoming Freshman football players by half.  And in our talk with South's Jeff Arnette, he doesn't mention rising Junior wide receiver Zavion Capers.  But Denmark coach Terry Crowder did.  That's because Capers, who's already received an offer from Clemson as a Sophomore, has been caught up in redistricting and will play out his high school career as a Dane.
The second is attrition.  Every school in Forsyth County will be looking for a new starting quarterback this spring.  This includes Denmark, who's never even had a starting qb.  And these are just two of the topics covered by these conversations with our head coaches.  We'll start our podcasts by the schools alphabetically.  First up:
DENMARK DANES                                                                                  New Denmark Head Coach Terry Crowder comes to Forsyth County with two state championships under his belt from two different schools, the latest at Chattahoochee in 2010.  He's super excited to be leading this start-up, and can't wait to introduce Denmark High to the world at their Spring game.  The first name out of his mouth when asked about his roster is the aforementioned Capers.  Here's Greg with Denmark High Head Football Coach Terry Crowder.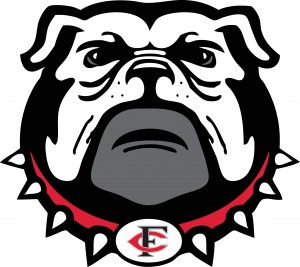 FORSYTH CENTRAL BULLDOGS                                                             Forsyth Central's Frank Hepler is looking for a win as the Dogs were blanked in 2017.  His squad fought to the end last season, and were in every game; so, so close in many games. Regardless, his team stayed together the whole season and will be better off for it entering spring ball.  Coach Hep talks about that effort, the task of replacing graduating 1000 yds+ qb Brad Thiltgen, and what he hopes to achieve most from spring ball on Tribble Gap.  Here's Greg with Forsyth Central Head Football Coach Frank Hepler.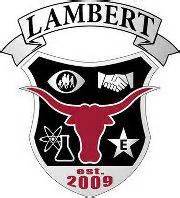 LAMBERT LONDGHORNS                                                                      Don't be surprised if Lambert's Louis Daniel answers his phone "Ola Amigo, Louis
Daniel, entrenador de futbol American en la escuela secundaria Lambert."   Daniel, the head coach of the Longhorns, and the school's spanish teacher, is coming off a season that fell short of some lofty expectations.  The regional champs the previous season, Lambert missed the playoffs last year.  Coach Daniel shares what he hopes will right the ship this spring, and the task of replacing graduating Senior qb Bobby Gabriel and running back Marcus Chatelain.  Here's Greg with Lambert Head Football Coach Louis Daniel.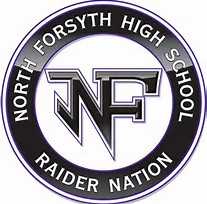 NORTH FORSYTH RAIDERS                                                          North Forsyth's Robert Craft is faced with the unenviable task of replacing the region's offensive MVP for the second year in a row;  lightning quick slot Simon Holcomb in 2017 and qb Ben Bales this spring.  He's excited about his prospects, and the opportunity to add a few wrinkles.  Entering his third spring football season, Coach Craft has a bar setter for his squad.  At the time of our interview, Coach mentioned that former Raider Colby Gossett, an offensive lineman at Appalachian State and a Raider alumnus, was thought to be on the draft board for a number of teams in the upcoming NFL draft, and was excited for Gossett, his school, and Raider Nation.  As it turns out, Gossett was selected in the sixth round by the Minnesota Vikings, becoming the first player ever from Forsyth County to be selected by the League in the draft.   Here's Greg with North Forsyth Head Football Coach Robert Craft.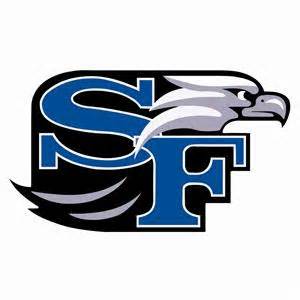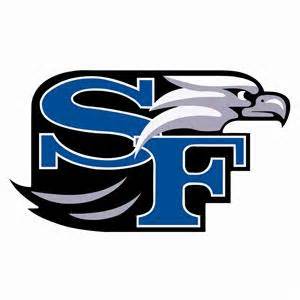 SOUTH FORSYTH WAR EAGLES                                                    South Forsyth's Jeff Arnette has 20 some seasons as a Head Coach.  The Dean of FoCo coaches, Coach Arnette has the honor of starting his 9th season at South replacing the quarterback, Cal Morris, the stud running back, Jarrod Honey, and huge offensive tackle Jordan Nelson.  But perhaps the most stinging departure comes at the hands of redistricting, where rising Junior wide receiver Zavion Capers, who already holds an offer from Clemson, will play his spring ball and the next two seasons at new Denmark High.  Coach talks about how redistricting has affected his team, and lots more.  Here's Greg with South Forsyth Head Football Coach Jeff Arnette.
   WEST FORSYTH WOLVERINES                                                         It took us a little while to catch up with West Forsyth's Shawn Cahill.  It seems he's the head coach of two teams this spring;  the one at West and the one at home.  He says he's only got four at home but his two and a half year old is equal to eight. Coach Cahill bids farewell to one of the most outstanding players Forsyth County has ever seen, tight end Ben Bresnehan.  Big Ben is already working with the first unit during spring ball at Vanderbilt, and could become the second player ever drafted from Forsyth County. Coach Cahill also says goodbye to quarterback Zach Burns, who's moving on to play baseball. and reliable kicker/punter/wide receiver Bryce Jones.  Here's Greg with West Forsyth Head Football Coach Shawn Cahill.
Thank you so much for joining us at Forsyth Sports 365 for our Spring report.  And thanks again to the coaches for giving us their time and their amazing takes to make this one splendid podcast.
We'll give you a couple of weeks to digest this info, and while you're at it, there will be somebody else doing the same thing.  Our next podcast will feature The Sports Freak, my bro Richard Golden, who will analyze this data and then deliver the takes you love to hear him drop.  You don't want to miss that.  Then it's a couple of weeks at the beach before we return in August with a whole new season of LIVE Forsyth County football games Friday nights, under the lights.
See you on the next podcast from Forsyth Sports 365!