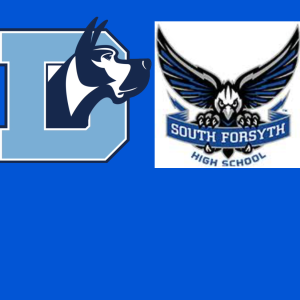 Denmark traveled to South Forsyth Friday night with one thing in mind   Spoil the War Eagles' Senior Night.  The Danes did just that, combining a few big plays with the usual South mistakes to climb on the busses with a 28-21 victory.   South Forsyth was competitive once again but couldn't get the one big play they needed to keep up with the newest member of FOCO schools, which split South's student population a few years ago.  This was a winnable game that South wasn't able to put it together enough to pull it out.
Denmark improves to 1-1 in Region 6 7A, 3-4 overall.  South falls to 0-2 in the region, 0-7 overall.   This sets up a must win for South next week to keep it's Forsyth County record 10 straight playoff appearances alive for #11 next Thursday night at Forsyth Central.
Here's the replay, with Mike Newsome and Bobby Missos on the call.   Due to technical difficulties we' ve split it into the three parts below.
Denmark at South Forsyth First Half
https://forsyth-sports-365.mixlr.com/recordings/2261998
Denmark at South Forsyth  Third Quarter
https://forsyth-sports-365.mixlr.com/recordings/2261997
Denmark at South Forsyth  Mid 3rd Qtr to End Of Game
https://forsyth-sports-365.mixlr.com/recordings/2262000