South Forsyth kicker Davis Little hit field goals of 40, 51 and 35 yards, and a stingy War Eagle  defense held an explosive Shiloh squad to a lone touchdown in an 11-7 victory in the season opening scrimmage at South Forsyth.  South's running game, a question mark coming in to the season, was led by Seniors Cole Yeager and Braden Belue, and racked up close to 100 yards to put the War Eagles in scoring position.  Senior QB Cade Aycock hit some timely pases to Seniors Dash Moore and Mikey Meersman, among others, to aide the offense.  The defense took advantqge of several Shiloh turnovers to maintain their lead throughout the game.
The broadcast team of Greg Golden and Mike Newsome were assisted on the call by Greg's daughter Becca Golden.  It was Becca's last night in town as she heads to Athens over the weekend to begin her sophomore year at the University of Georgia.  Greg has been calling games in Forsyth County for ten years, and this was Becca's first appearance on the Forsyth Sports 365 program. Hopefully it won't be her last.
The link to the replay of the contest is below.
https://forsyth-sports-365.mixlr.com/recordings/2205050
South opens it's 2023 season for real next Friday night, August 18th, on the road at Lanier High School.  Mike Newsome will handle the play-by-play, with Doug Thomas on color.  Be sure  to tune in to Forsyth Sport 365 dot com for all the action.  In between, look for the Coaches Corner featuring South Forsyth Head Football Coach Troy Morris with his take on the scrimmage.
Greg and Becca Golden in Becca's broadcasting debut.   Becca joined Greg and Mike Newsome on the call in the pregame and the first half.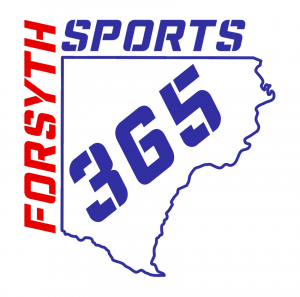 Thanks for listening!   Don't miss next week's 2023 season opener as South Forsyth travels across the Hooch to take on Lanier.  Broadcast time 7pm.