Davis Little hit a South Forsyth and Forsyth County record 57 yard field goal, then topped that with a 60 yarder, but it wasn't enough to overcome sloppy play, turnovers and personal fouls as the War Eagles dropped their season opener at Lanier 37-20 Friday night.   For example, South had the ball inside Lanier's 20 yard line in what was still a close game when two flags were thrown,  both on South.  The first was for an offensive face mask,  which was then followed with a dead ball personal foul unnesccesary roughness call.  The 30 yard penalty took South out of scoring range.
To make matters worse,  Senior Quarterback Cade Aycock left the game in the first half and did not return Details at the time were sketchy. Look for an update to come in this week's Coaches Corner Wednesday afternoon, when we'll get the chance to ask Coach Troy Morris if he can tell us more.
One other positive to come out of the game was the first career touchdown pass for South  Forsyth Sophomore QB Walker Clark  It appears that he'll get the starting nod if Aycock is sidelined.
If you're curious about the notoriety of Little's two bombs, ithe 60 yarder is a South Forsyth and Forsyth County record, according to the Georgia High School Football History Association.  The 60 yard made field goal puts Little tied for fifth all time in Georgia High School Football history.  To verify the validity of their work, consider that South Forsyth legend Tyler LaFlamme's 435 yard rushing against Chattahoochie in 2014 has him 7th all time on that list.
Here's the GHSFHA field goal distance list, a short one to be sure
67 yds    Rusty Cury (Duluth) vs Norcross            1999                                                  63 yds    Dax Langley (Heritage) vs Cedar Shoals   1993                                                  63 yds    Jake Verity (Bremen) vs Rockmart           2015                                                    61 yds    Miles Hemphill (E Paulding) vs Stephenson   2012                                                60 yds    Ryan Fitzgerald (Colquitt Co) vs Archer     2017                                                  60 yds    Davis Little (South Forsyth) vs Lanier      2023
Interestingly, Little is also tied with Fitzgerald for 15th longest at 57 yards.  Little nailed his 57 yarder Friday night at Lanier before his longer one;   Fitzgerald hit his 57 yarder vs Warner Robbins in 2018.   Davis Little and Ryan Fitzgerald are the only two to have TWO kicks in the top 20 all time for distance in Georgia High School football history.
Congratulations!!
Here is a look at one of the top field goal units in the country.  The snapper is #73 Ben Blanton.  The holder is #7 Madox Pearson.  The record setter is #15 Davis Little.           The Special Teams Coordinator is Coach Chris Aycock.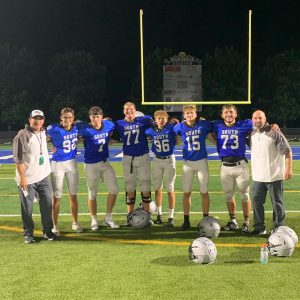 The replay of the game, with Mike Newsome and Doug Thomas on the memorable call, is below
https://forsyth–365.mixlr.com/recordings2914