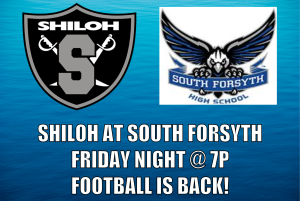 South  Forsyth High opens the 2023 season this Friday night as Shiloh High visits War Eagle Stadium for a scrimmage.  The game doesn't count on the year; it's a practice game.  But it will be played just like a regular season game except there will be no kick or punt returns, and the 4th quarter will feature youngsters.  Oh, the quarterbacks will wear special jerseys so they dont get hit.  But everything else will be real!
South Forsyth Head Football  Coach Troy Morris joins Greg Golden and Doug Thomas in this season opening Coaches Corner interview to preview the game and the season.  There are a lot of holes to fill following graduation and attrition from  last year's squad, so here is your first chance to get Coach Morris' take on the 2023 team.  The guys cover a lot of subjects and bring some insight to this season's intents and expectations.  Enjoy this interview and then be sure to join us for Shiloh at South Forsyth LIVE Friday night at 7p right here on Forsyth Sports 365!
Coaches Corner:  South Forsyth's Troy Morris joins Greg Golden and Doug Thomas ahead of the season opening scrimmage vs Shiloh High.