South Forsyth lost its season opener Friday night at Lanier.  The team has more than twenty Seniors but they're not loaded with experience, so they play young.  It's no excuse but this resulted in lots of penalties, including several drive stalling flags.  Quarterback Cade Aycock left the game and did not return. Coach Morris gives us an update on the Senior signal caller's condition heading into this week's home opener against Harrison.  There is a lot to cover, so jump right into it.  Total run time is 30 minutes, which flies by quickly, and includes discussion of Davis Little's Forsyth County record setting 60 yard field goal.   Get Coach's take on the adjustments the team will make in this week's contest.   Also, below is Mike Newsome and Doug Thomas' call of the mighty kick, including the moments before and after the kick.  Enjoy!
Coaches Corner:  South Forsyth Head Football Coach Troy Morris joins Greg Golden and Doug Thomas with a look back at the game at Lanier and ahead to Friday's home opener vs Harrison High.
                         
A Little Is A Lot!   Here is the three minute clip of Mike and Doug's call of the historic 60 yard field goal by South Forsyth's Davis Little, including the moments before and after the kick.  The effort is a record for both South Forsyth and Forsyth County, and places Little tied for fifth all time.  See the list below…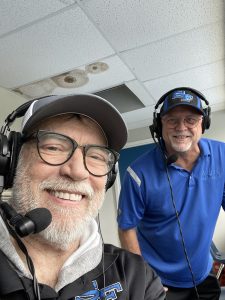 Greg Golden and Mike Newsome will be on the call Friday Night. from War Eagle Stadium.