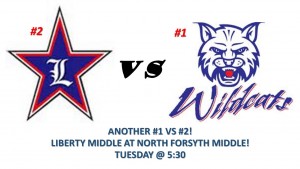 The Liberty Patriots, 4-1 on the season, march in to Raider Valley to take on the top ranked, 5-0 and defending champion North Forsyth Wildcats in yet another superb middle school mash-up!  Listen below to our interviews with Liberty Head Football Coach and AD Todd Holbrook and North Forsyth Head Football Coach Ty Carnes.  Then we're live Tuesday at 5:00 from the North Forsyth High stadium for the next great Forsyth County Middle School clash. Be sure to tune in!  And remember, we record it for listening later, so tell anyone who can't make it we've got their back!
Here's Greg with Liberty's Coach Todd Holbrook.
Greg talks with North Forsyth's Ty Carnes and special guest, AD Dusty Hoyle.