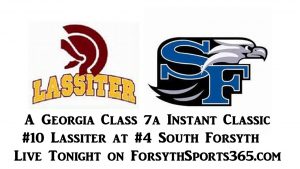 A Georgia Big School Top Ten Matchup right here in Forsyth County, the first in memory for most, happens tonight as Class 7A #10 Lassiter visits Class 7A #4 South Forsyth.  Enough hype!  Kickoff is at 7:30, our live podcast from the Eagles Nest on Peachtree Parkway begins at 6:30.  Log on to our home page at forsythsorts365.com and join Greg Golden and Richard Golden (The Sports Freak) for the LIVE CALL.  We'll be LIVE in Forsyth County, Georgia, across the country and around the world!  Don't miss this live podcast EXCLUSIVELY on forsythsports365.com!
In other action featuring Class 7A Region 5 Football:
WOODSTOCK AT NORTH FORSYTH
This is another game featuring Region 4 vs Region 5.  All Raiders' Head Coach Robert Craft has to do is look at the highlights from West Forsyth's season opening win over Woodstock to see that there are opportunities to move the football on the Wolverines.  And with QB Ben Bayles averaging more than 300 yds a game through the air, and tossing touchdown passes to no less than EIGHT different receivers, North Forsyth should have no trouble doing just that.
365 Sports Freaks Fearless Prediction:  North Forsyth 35 Woodstock  17
West Forsyth at Newnan
Normally a player in the playoff picture, Newnan lost its first three games before securing a win last week vs an up and down Washington team.  Coach Shawn Cahill's Wolverines should be able to get the ball to TE Ben Bresnehan with regularity.  Newnan is giving up 35 points per contest, and that should  be just en0ugh for West Forsyth to pull out a W.
365 Sports Freaks Fearless Prediction:  West Forsyth 35   Newnan 21
Lambert at Wheeler
Lambert, last year's Region 5 champs, sit at 1-3 and looking for some answers on offense.  Their lone victory has come vs a woeful Cherokee team that's given up 33 points a game in their winless season, while scoring, not averaging, but scoring a total of 6.  Coach Louis Daniel's team put up 28 on the Chiefs, but have managed just 6, 13, and 6 in their other three starts. They'll need more answers tonight against a Wheeler team in Marietta that is off to a 2-2 start in a marginal Region 2.  The Lambert Defense can won this one, but the offensive woes may prove too much to overcome.
365 Sports Freaks Fearless Prediction:  Wheeler 21  Lambert 10
Forsyth Central at Kennesaw Mountain
On paper, the Mustangs from Kennesaw Mountain look like a tough out.  They're 3-1, and play in super tough Region 3 with North Paulding, Marietta, Hillgrove and McEachern.  But they gave up 77 points in a lopsided loss to Woodstock, which kind of says they have their weak spots.  Coach Frank Hepler's Bulldogs are still looking for their first win of the season, and they've come oh-so-close.  We'd love to see the Bulldogs surprise in this one, but on the road in the shadow of the mountain might be too much to ask.
365 Sports Freaks Fearless Prediction: Kennesaw Mountain 35  Forsyth Central 31
Milton has the night off.