---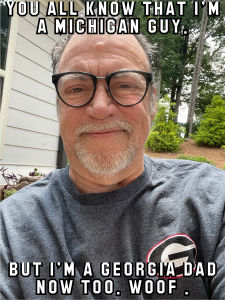 Yes, it's true.   My daughter Becca graduated this year from West Forsyth with a 4.3 with honors and was accepted in the first round of this year's Freshman class.
Congratulations Becca!
Anyway, they went over to Athens this past week for orientation and I got this snappy t I can wear under my golf shirts.  When Im not wearing a Michigan shirt.
Jus three weeks from now we'll get together with Troy Morris, the head Coach of the War Eagles, for a Coaches Corner ahead of the scrimmage against Shiloh at Shiloh August 12.  Doug Thomas and me, Greg Golden, will have that call for you live starting at 7.  Kickoff is at 7:30.  I expect a big audience!    Just go back to the home page to the Mixlr radio box.  Click on the arrow once we're live and voila!  Youll join the podcast.