South Forsyth needed a win over its archrival Lambert this week to keep its slim playoff hopes alive.  That's why the 49-7 beatdown by the Longhorns is such a burner.  It was as though South knew what was coming and just sleepwalked through the game as if the end of this season couldn't come around fast enough.  Even Artimus of Gainesville, a big SOFO fan and a friend of Mike Newsome, finally threw in the towel.  In our playoff call, one of the most positive of people you'll ever meet, Artimus admitted it was hard to find any positives in the outcome. It seems it was a tough nite for SOFO Nation.
It's kinds the same situation for me as I listen to all the chirping about Michigan's cheating allegations.  I st feel a lttled empty.  And when I do, there's only one way to fill up.  I ROCK.
The other day I needed to run my Mixlr streamer lve for an hour or so to see if there would still be any interruptions in that time.  So I put together this little vignette.  Man does it satisfy.  I've edited the narration way down znd slipped in between every two songs instead of one.  Of course, I felt better immediately.  And if you got some rock n roll soul, you will too.  Selected totally at random, here's the Golden Reel.  Credits are below.  And this is free airplay as I am making nothing of this production.  The artists involved should feel fortunate that I have included them in this test reel.
Credits                         
Whole Lotta Love – The Hollywood Vampires.                                               Alice Cooper, Johnny Depp and company are joined by AC/DC's Brian Johnson in this cover of the Led Zeppelin Classic.  Just a real nice take by the veteran vocalists.
Mister Blue Sky – Electric Light Orchestra                                                      This song from Jeff Lynn and ELO is off the multi platinum double album Out Of The Blue.  It was recently decorated again when it was cast as the opening number in the soundtrack of Guardians Of The Galaxy Part Two.
Ride – Ty Tabor                                                                                                  Tabor, the guitatist and second vocalist for Kings X, has a few solo albums out.  This is off his first, Rock Garden, and remains one of my favorites.
Eagles – Victim Of Love      Don Henly, Glenn Frey and Joe Walsh co wrote this classic from the Hotel Californis album.  
AC/DC – Problem Child    Baughn Scott and the rockers from Down Under throw gas on the fire in this early blast from Dirty Deeds (Done Dirt Cheap)
In America – Creed     Scott Stapp and Mark Tremonti have announced a Creed reunion record in the coming months.  Until then, we'll have to enjoy the band's amazing library with songs like this from 1997's epic record My Own Prison.  
Future In The Past – Chickenfoot   The band formed by a chance meeting at the Cabo Wabo Cantina in Cabo San Lucas, Mexico,  The Club's owner Sammy Hagar and three patrons, guitarist Joe Satriani, bassist Michael Anthony (Van Halen) and drummer Chad Smith (Red Hot Chili Peppers), sat down to jam after a party at the end of the world.  This song is off the first of two by what became Chickenfoot.  Just a magnificent rlock song.   
Vanishing Cream – The Hunger      One of hundreds of one hit wonders from the early 90, Vanishing Cream etched its way into the Top 40 of mainstream rock in the mid 90s.  But Brother's Jeff and Tommy Wilson had formed The Hunger in 1989, so some dues were seriously paid.  Still, this song didn't launch a followup tune or career, but the Wilson bros are still banging it out today.  
Red House – Jimi Hendrix and the Experience     The live Woodstock recording featuring Hendrix, Noel Redding and Mitch Mitchell.  Just because.
When The Curtain Falls – Greta Van Fleet     This band has been villified as a Led Zeppelin rip off, but hey even Robert Plant can't sound like Robert Plant anymore.  If you can do it, do it!  Credit this band from central Michigan with doing just that.  Brothers  Josh (vocals), Jake (guitar), and Sam (bass) Kizska formed the band in their dad's garage in Frankenmuth.  When it came time for a name, they asked their neighbor Gretna Van Fleet if they could use hers.  With a simple alteration, a new rock legend was born.
Rock Candy – Montrose   Following a long battle with clinical depression, Ronnie Montrose took his own life on March 3, 2012.  A month later, his vocalist Sammy Hagar, who Montrose had fired on the tour following their second album in the late 70s, reunited with Montrose' rhythm section for a memorial concert.  Filling in for Montrose was rock legend and Hagar pal Joe Satriani.  Still, tho, not much better rock tune than the original.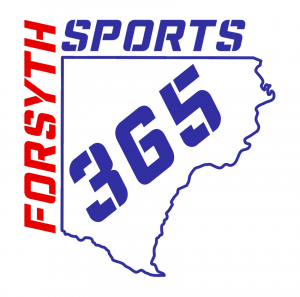 Next Friday South Forsyth travels to West Forsyth for the final regular season game.  Not much to play for but pride.  Listen in next Wednesday to our Coaches Corner, where we'll discuss the Region 6 playoff outlook.