Jeff Arnette enters his tenth season as the Head Football Coach at South Forsyth High. He's currently setting the pace for county schools with five straight playoff appearances, and is hungry for a sixth. How are you preparing your team for a season that wraps with three of your last four games on the road? Or the fact that you have two defending state champs in the mix? This is his 29th season of coaching football, his 19th as a head coach. Has the game changed for him? Has he changed for the game? Coach Arnette answers these questions and a whole lot more as he sits down with Greg Golden for our season opening interview. Enjoy.
***It should be noted that the team vote for Captains had not been held as of the time of this interview. ***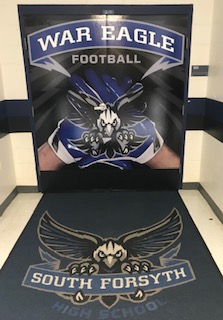 Many thanks Coach, as always. We'll here from Coach Arnette again the week of the opener. Stay tuned for much more to come as we head to the scrimmage at Sequoyah Friday Aug. 16th, and the Season Opener Friday Aug 23rd at the Eagle's Nest vs Sprayberry.