We gathered together to talk about things that matter as Forsyth County and the rest of Georgia head towards the 2020 High School football season. Mike Newsome, Doug Thomas, and me, Greg Golden, met at Doug's house, where we could chat into my phone while respecting our distance between each other. The thing is, we chatted like we were three cousins who hadn't seen each other for a few years before I even hit the record button. The conversation moves between us effortlessly, and required a very few edits. The first is, however, pretty obvious. I have re-recorded the opening and segued in because there is just no way to smooth into it. I cheated and did a separate cold open. It just feels better. This does in no way diminish the content. We cover a lot of ground in these two segments. Doug and Mike are very successful businessmen who understand the school and community and the world around it. And I am a savvy broadcaster who just brings the whole package together seamlessly. That's my story and I'm sticking to it. So here you go, the War Eagle Broadcast Team. sitting here in the now and looking ahead. I've split the discourse into two segments so you can get a snack break and maybe hit the potty to wash your hands, among other things, And you might notice mention of some photos. They'll be laid out below the audio. All opinions are ours and may be used on your social media page with or without permission. Let's go!
Thanks for listening! We hope you enjoyed the show. Now about those pictures I was hollering for. Here they are in guests order.
Doug Thomas//// Doug and his girls Rachel and Leah. Don't let Doug's happy grin fool you. Rachel is a week away from Daddy walking her down the aisle. When wedding plans cloud his brain, he heads straight to the boat for some refreshment. On the jet ski, former War Eagle long snapper and Doug's son Adam, and behind him future (a week) son-in-law Drew Latini. A note on the Sitting Room photo, our cover shot. That used to be a plain ol wall until Leah got her new tools for Christmas. She cut lengths and angles to create the graceful wall you see now. Way to go Leah!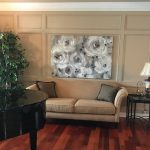 Mike Newsome//// Mike has his own getaway, as you can see. And of course he mentioned that daughter Abbie didn't get her graduation due to the Coronavirus, as our Seniors all fell victim to. So as Mike told us, he still had his old gown from Berry U. and LOOK HOW GOOD SHE LOOKS IN IT! Awwwwwwww. And we don't want to leave Derek out of it. There's the stud in uniform with mom and dad. The three fingers mark how South has beaten West three years in a row. .
Greg Golden//// I have a very special friend at home, one who I have been nursing for a bit. He's my buddy Tobi and he got a boo-boo. Somehow he busted a toenail and it was very painful. The Vet sent him home with the cone because she didn't want him chewing on the toe. We got rid of that dang head gear quick and put on a boot. With some loving care from his big sis he got better quick. We spent some time on Amelia Island mid June and took a personal cruise across the St Mary's River to Georgia's Cumberland Island and said hey to the wild horses. That's Becca and her friend Makaya horsing around. Fireworks in the cul-du-sac behind our house. Then a look at me a month ago and today looking a bit less puffy since I quit drinking coffee. Mostly. Finally me and my sweet mom in Michigan Stadium. September 27, 1958. A 20-19 win over USC in the season opener. Proof to any doubters that I've been Blue Since Birth.
As always, thanks so much for spending time with us at Forsyth Sports 365. We're holding out til the last possible second that we're gonna play some football, and if you cant make it to the game or you were shut out because of density rules, tune in right here and Mike, Doug and I will bring you War Eagle Football in audio technicolor like we've done since 2015. Look for our next podcast Friday as we get the goods from South Forsyth Assistant Head Coach and Offensive Guru Troy Morris. Dont Miss it! Be safe and we'll see you then, right here on Forsyth Sports 365!