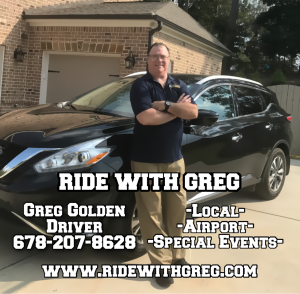 With each passing day, another member of SOFO Nation finds great value in scheduling a ride with Greg.
And that would be me, your host and play by play announcer for the War Eagles, and your driver, Greg Golden.
Ask Charis Butler, whose parents, Dr and Mrs Gregory, rode with Greg from the ATL to home.  Ask Angela Ressman, whose family, including rising junior footballer Owen, rode with Greg to and from the airport on their recent vaca.
Of course, I asked Owen what were his impressions of the "now" Head Coach, Troy Morris.   "I love him", said Owen.  "He wants to win!"   Carpe Diem indeed!
There have been a couple of referrals from SOFO Lorraine, who has more friends and family visiting her than the Queen herself.
And then there's Lynn Mallamace.Shes on the staff at South.   If you dont recognize Lynn by name, maybe you'll recognize her partner, her dog Jeter, who serves as a friend to the student body as a pal in times of anxiety.   Im picking her and her hubby Tony up after their trip to see their boy Andrew in Texas
This has been a great experience for me. First, I love to meet new people and learn all about them in the hour (or three) it takes to get to the airport.  I have a rule.  We ALWAYS leave your place three hours ahead of your flight time.  It's better to be sipping a beverage at an airport cafe than sweating it out in traffic.   I drove one of Lorraine's guests and her 8 year old boy/girl twins to the ATL for their return flight to Minneapolis.  I dont know that Ive ever been so entertained in one hour.  They had a captive audience and they knew it.  And I found out their mom has a great laugh, like she knew what was coming and I didn't.
Second, if you know me you know about my fake leg, aka the MEEEEECHIGAN billboard.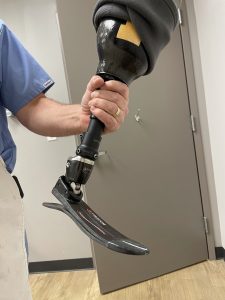 This is my third socket, and absolutely the best fit of the three.  I can knock down free throws consistently and am close to hitting a three again.  But its tough to spend a long time on it.  So DRIVING is something I can do sitting down!  😆
And third, I am providing a real service to the community.  As restrictions are lifting, people are flying again.  The airport and airlines, as you might know, are still stretching their wings.  Even if the construction were finished, it would still be a royal pain to drive yourself down.  Avoiding a crash coming in,  finding parking (or not), loading and unloading a few times…by the time you reach your destination youre wore out and there goes your first day.
Ride With Greg is a door to door service that removes all that hassle for a fair price and lets you board stress free.
#subject to availability, price per ride  Maximum 4 passengers😁
Next time, whether your family and friends are coming or going, or it's just you on a business trip, text me, or visit my website at www.ridewithgreg.com, and text me from there!
Unless its a Wednesday morning (Coaches Corner) or a Friday evening (Let's Go South!  Let's Go South!)
Ill be ready to share my expert motor skills and deliver you the way you'd expect from an award winning broadcaster.   The conversation is worth the fare by itself!
Ride With Greg and enjoy your ride!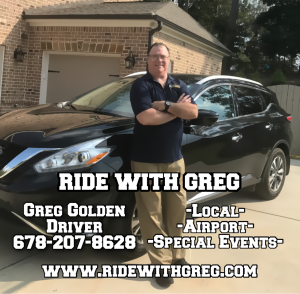 Official sponsor of the live South Forsyth football podcast, exclusively on forsythsports365.com, and the SOFO War Eagle Sports Network.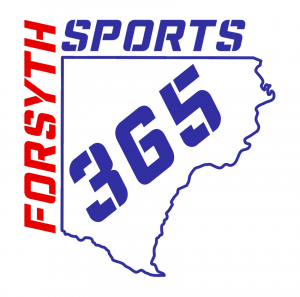 Forsyth Sports 365.   Providing world class coverage of South Forsyth High School football since 2015.
www.forsythsports365.com