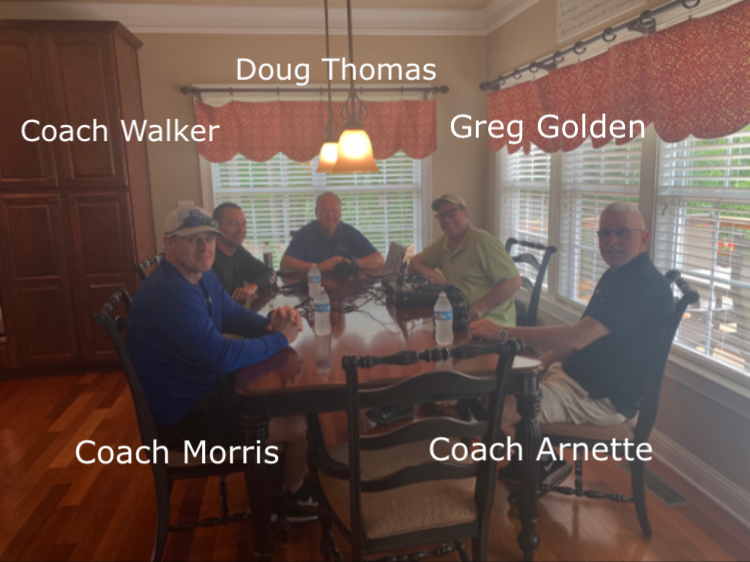 You've been waiting for this, and here it is! In our get together with the Three Amigos of War Eagle Nation, Head Football Coach Jeff Arnette shares the spotlight with Assistant Head Coach and Offensive Coordinator Troy Morris, and Defensive Coordinator Ross Walker. The result is 35 minutes of awesome that goes by too quickly. There's no hyping this podcast. You know exactly what you're going to get! So here you go, in two parts.
THE WAR EAGLE BRASS OPENS UP!
The above mentioned coaches join hosts Greg Golden and Doug Thomas on Day One of the return of football at South Forsyth High School.
Side note…listen at the break to how I might've cost Doug a shot at media immortality. 😁
Did you catch that? Doug began to ask a question and I cut him off. I wanted to split the interview in two due to the length and slowed his roll. That's when Coach Arnette laughed and said "that was gonna be the best question ever asked in a football interview". Hahahahaha! Now we'll never know…
So listen to how I try to bring Doug back in to start Part 2. Bringing him in with a flurry is the least I can do. Here's Part Two!
GO DOUG!
Well I'm so happy to be a part of that. What a fantastic way to spend an hour right? These guys came ready and there wasn't a dull moment. It flowed like a 95 yard drive for the score, with no incompletions or fumbles, just one executed play after another right into the end zone. Many thanks to our guests, South Forsyth Head football Coach Jeff Arnette and his top assistants, OC Troy Morris and DC Ross Walker. And thank YOU for joining us in this latest podcast from Forsyth Sports 365. We'll have more as we work into Phase 2 and beyond. Please be sure to like us and share with your friends who love to hear the coaches talk!
See you next time! – Greg