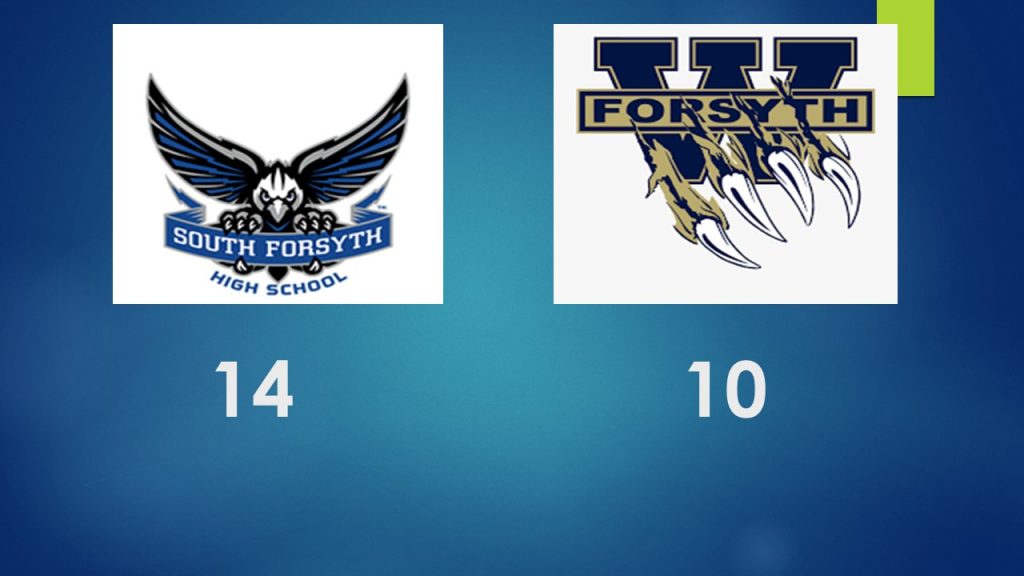 What was an expected offensive display from both sides turned into a defensive struggle that became an instant classic in this blossoming Forsyth County rivalry. West Forsyth scored first on offense, the South Forsyth scored on a defensive pick six. A 35 yard field goal put West on top 10-7. Then, finally, South got into the West red zone looking to tie or take their first lead. West held and held until South got just about as close as they could. On 4th down and goal from the six inch line with three minutes to go, South pushed the ball across to take their first lead. An interception by South with under 30 seconds would end it, but not without West Coach Shawn Cahill in the refs' faces screaming for a holding call he wouldn't get.
This was a terrific game, played with fierce intensity from both sides. Listen to the REPLAY below and enjoy this game from the edge of your seat, like everybody in attendance did.
http://mixlr.com/forsyth-sports-365/showreel/south-forsyth-14-west-forsyth-10/
Both teams knew they were in the playoffs going in. But there was plenty on the line, including the right to not play at Parkview in the first round. The win created a three way tie for second in Region 5 7-A between South, West and North Forsyths. The GHSA tiebreaker formula gives South Forsyth third place in the Region and a trip to Norcross in the first round. West Forsyth finishes in fourth place and gets that trip to Lilburn. Maybe they'll see Jeff Francour on the opposite sideline.
For what it's worth, a South Forsyth player was overheard telling his teammates heading to the locker room at halftime: "Now THIS is a rivalry!"
Milton, the defending 7A State Champs, wins the region again and hosts Region 7 fourth place finisher Central Gwinnett. North Forsyth finishes in second with the tiebreaker and will host Region 7 third place finisher Brookwood.