oIn the game's first offensive play, Ty Watkins went deep to Chris Nelson for a 50 yard touchdown and a 7-0 South Forsyth lead over Denmark at Denmark.
Then the defense took over.
South allowed just a second half field goal, which they matched in the fourth quarter, to come away with a hard earned 10-3 road win over the Danes.
Josh Nelson was brilliant in pass coverage in his first action of the season, breaking up at least 4 passes, two in the end zone.  And Hayden Mock  had his name called a dozen times on defense, proving to be a disruptive force in a most disruptive defense.  The D also recorded five sacks, including a huge one as the Danes tried to score in the final minute.
South improves to 4-3 on the season, and 1-1 in Region 6, 7A play
Denmark falls to 5-2, 1-1 in the Region
http://mixlr.com/forsyth-sports-365/showreel/south-forsyth-10-denmark-3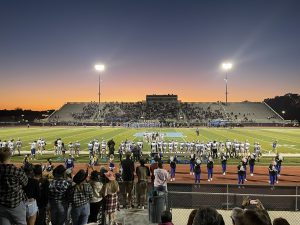 A beautiful night at Denmark High, and photo evidence of the outstanding crowd on the visitor's side.  SOFO Nation matched the decibel level Ohm for Ohm.