When you first meet South Forsyth Head Football Coach Jeff Arnette, you're immediately drawn to him.  He's an easy going self avowed country boy from Tennessee who loves to sit and chat about all kinds of things, and doesn't seem to be in a rush to get on with anything.  But if you're on the opposite sideline of a War Eagle football squad, you better bring your A Game, because Coach Arnette doesn't have a particular liking for losing.  Coach Arnette is entering his 27th season as a football coach, his 17th as a Head Coach, and his 8th at South Forsyth.   Many around the county like to think he's a big reason the quality of play in this county is ascending. In his typical humble fashion he'll deflect the credit, but his deep playoff run two seasons ago, including victories over big school powers Norcross and Tucker, and a close loss to eventual state champ Colquitt County, speaks volumes about his effectiveness and purpose.
Jeff Arnette has coached at some legendary football schools.  Oconee County and Elbert County in Tennessee.  Cedar Shoals in Athens.  Valdosta.  He loves the community around South Forsyth High, and is committed to it.  He's also committed to the school's membership in the new Class AAAAAAA, and his schedule reflects that commitment.  South Forsyth will open the season against last year's 7A runner up Roswell in the Corky Kell classic.  The contest will be the first football game played in Georgia State's new stadium, the old Turner Field.  It will be telecast live, with kickoff slated for 5:30 on a Fox Regional network across several states.  His schedule includes the second half of home and homes against South Gwinnett and Lassiter.  And then there's the Region 5 games against the other four Forsyth County schools and Milton.  If you're gonna be a 7A school, play a 7A schedule.  "Now that we've gone over it", he says about the schedule, "I'm a little uncomfortable.  Who put that thing together?"
Enjoy this three part interview with the dean of Forsyth County Head Football Coaches, as he shares his thoughts about his team, the support he enjoys from the administration and community, and his restructured staff after several members moved on.  Great coaches have a coaching tree, right?  "Aww" he says in his baritone drawl, "I don't like to think of it like that.  I miss them a whole lot."  Until, of course, he finds them on the opposite sideline.
Coach Arnette with wife Page, a UGA grad, and kids Kennedy and Jackson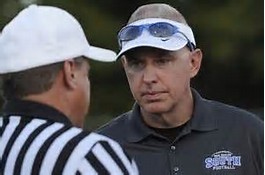 Coach Arnette is not certain he agrees with the official's explanation 
Jeff Arnette Part One
Jeff Arnette Part Two
Jeff Arnette Part Three