Troy Morris is always a great interview. The Offensive Coordinator for the South Forsyth War Eagles is also the Assistant Head Coach, and Head Coach Jeff Arnette gives him the green light anytime I want to get him on for his perspective, which is always well informed and maybe just a little bit entertaining. Last season, I didn't get him on because last season was Coach Arnette's 10th at South Forsyth and I gave everything to him. This season its OK to add a few more microphones and so here comes Coach Dad.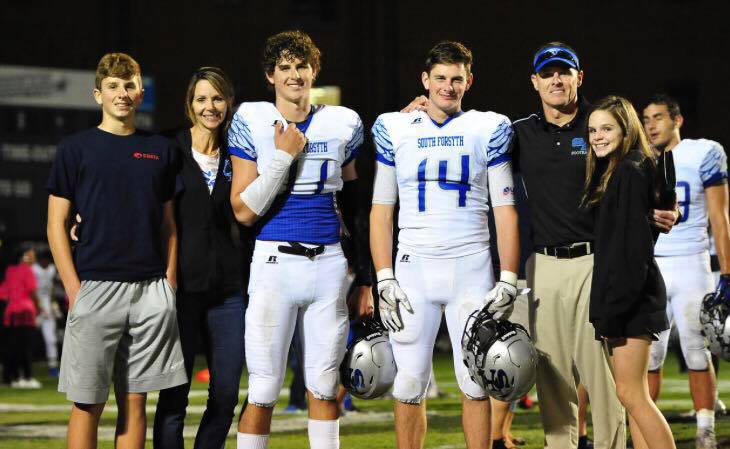 Coach Morris, like everybody else who does school, took some time off around the 4th of July. They went up to a place I'd never heard of. They went to The Edge of the Earth. I talked a bit to Jeanette to send me some pictures. More on that conversation after the podcast. She said the family has been going up there every summer for ten years! And I can see why!
Above, that's the Morris Mob a couple weeks ago at the Edge of the Earth, and lower right, The Mob 10 years ago when they first started going.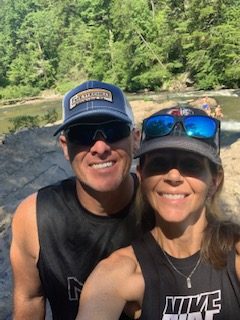 As always, many thanks to Coach Morris for sparing some time, which he told me has just gotten a little harder to spare. But he's gonna make sure to make some as we move along for his momma in Texas! Hey Mom, we go live Aug 28th with a scrimmage at North Gwinnett. Go BIG or go home. And now, a podcast as easy to listen to as it was to record. Enjoy!
Greg Golden and Doug Thomas with South Coach Troy Morris
Great stuff and still so many variables and "ifs". But we know that there's a green light for schools opening and football starting.
Now I spoke earlier of Jeanette Morris, the mom of the Morris Mob, and her daughter Carla, a blossoming hoopster for Coach Gravitt and South's Girls' squad. What i didn't know until speaking with Jeanette earlier in getting those pics, is that she's COACHING Carla's AAU team with Shannon Thompson. Troy you been holding out on me! Shannon is South receiver Mitch Thompson's mom. There are three girls on the SFHS Girls squad with brothers on the football team. Pretty cool. THAT's a story, and soon I'll get with Shannon and Jeannette and bring that to you. We'll meet somewhere and record in stereo. Not some over the phone junk. I know that's what you count on here. Quality radio coverage. 🙂
The Essence Extreme 2023 team, coached by Shannon Thompson and Jeanette Morris. This AAU Team has three girls who will contribute as Freshmen to the South squad this fall. A fourth will join them when school practice starts later on. We'll have the story for you soon. Is Jeanette going to be as good on the air as Troy? As a radio professional I have to tell you: Wait and see!
Thanks again for joining us! Be on the lookout for our next podcast, and any info on anything that means changes for the athletes and coaches and staff. See you soon!
-Greg