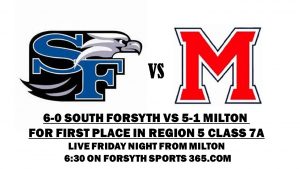 FORSYTH SPORTS 365 IS BEYOND THRILLED TO ANNOUNCE THAT MILTON HIGH SCHOOL HAS INVITED US TO PRESENT, AS OUR FRIDAY NIGHT FOOTBALL LIVE PODCAST, THE DRAMATIC SHOWDOWN FOR FIRST PLACE IN REGION 5 CLASS 7A BETWEEN THE SOUTH FORSYTH WAR EAGLES AND THE MILTON EAGLES!   
AND WE HAVE ACCEPTED!!!
Last Friday at Peachtree Parkway and Ronald Reagan, South Forsyth pounded rival Lambert 38-0, the first shutout in the history of the Backyard Brawl.  The win for Head Football Coach Jeff Arnette's squad was his 102nd victory in a stellar career, and improved South to 6-0 with continued dominance of their opposition this season.  Meanwhile at West Forsyth, in the return of former West Head Football Coach Adam Clack, a battle of 4-1 teams for sole possession of second place in the region took place. Coach Clack and his now fellow Miltonites held their breath as, with under two minutes to go in the fourth quarter, and trailing by just four points, West Forsyth threw to a wide open receiver on 4th and goal from Milton's three yard line…only to come up an inch short.   One Inch!  (Insert the Al Pacino halftime speech from "Any Given Sunday" here.)  From their one inch line, Milton drove for a first down and then took a knee to secure a thrilling 17-13 win over the worthy Wolverines.
The results put South Forsyth (6-0, 1-0) on the road at Milton for a splendid showdown with Milton (5-1, 1-0) for first place in Region 5, Class 7A.  The contest will be called live by Host and play-by-play voice Greg Golden, with expert commentary from The Sports Freak, Richard Golden.  Pre game starts at 6:30, with kick off set for 7:30.  Log on to forsythsports365.com, scroll down just below the headlines to the Mixlr live stream box and catch all the action of the best of Region 5 pageantry and football.
This broadcast from Milton High in north Fulton County will be the first venture outside of Forsyth County by the three year old Forsyth Sports 365, and continues their efforts to highlight and honor the players, coaches, parents and boosters, administrators and teachers who work so hard to execute the game with passion, emotion and excellence.
Forsyth Sports 365 welcomes the fans of Milton High, "The M", to our live podcast and promises a professional call with an honest representation of the action despite our name.  🙂   Greg is a professional broadcaster who served as the voice of Northwest Florida High School football for ten seasons before founding Forsyth Sports 365 in 2015 as a service to his community.  Richard has served alongside him on many occasions.  His unique takes and Sports Freak mentality make every live podcast an event.  The game is presented by the Feet First Foundation, "Helping Develop a Healthy Lifestyle One Step At A Time."
Don't miss this thrilling LIVE podcast of South Forsyth at Milton Friday night starting at 6:30, exclusively on Forsyth Sports 365.com.