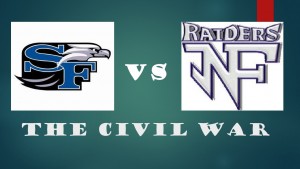 The South Forsyth girls basketball squad lived up to their Georgia top 20 ranking Tuesday night, overcoming a 14 point first quarter deficit to record an 18 point victory at North Forsyth, 60-42.  The Lady Eagles took advantage of nine missed layups and several blocks in close to roar back from behind and take control in the second quarter.  Sarah Myers, recently nominated for a McDonald's All-American slot, led the way with 17 points.  Emily Dreslinsky and Caroline Diem also scored in double figures, Diem's coming on four 3rd quarter 3 pointers that stretched the South lead quickly.  Haley Simpson, with a hard earned 17, and Amber Jones led the scoring for the Lady Raiders.  South improves to 11-4, 8-0 in Region 6.  North fell to 8-6 and 4-4.
In the boys game, South Forsyth turned a one point lead into an 11 point lead behind the scoring and defense of 6'7″ center Evan Cole en route to a 57-48 win over the Raiders.  Cole scored 20 points, ten in the fourth quarter as he took over the game in the paint.  The junior also grabbed 10 rebounds.  He's averaging a double double in the five games since returning from a calf injury.  Tyler Elliott and Joe Brandon contributed 9 each, and Sebastion Mallory contributed valuable minutes off the bench.  North Forsyth Senior guard Chad Bureau poured in 27 points in the loss, scoring inside and outside and hitting 8/9 from the line.  A brilliant effort.  Fellow Senior Nick Cunningham made things interesting by nailing 3 three pointers down the stretch, but North could get no closer than five.  South improves to 7-8, 3-5 in the region.  The Eagles are now 4-1 since Cole's return.  North falls to 5-8 overall, 4-4 in region.
Listen to the replay here:  South sweeps North  Click forward and back along the timeline.  The girl's game is first.