Football is back and not too soon!   The southeast is football hungry and we're going to bring you some LIVE TONIGHT!   South Forsyth is travelling to Sprayberry in East Marietta and Greg Golden will have the call.   He'll be joined by South Forsyth's outstanding stadium announcer Doug Thomas to bring you all the action with style!
Some notes on the opponent.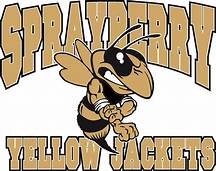 Sprayberry is on Sandy Plains Road in East Cobb County.  The Head football Coach is Brett Vavra, who is a former Yellow Jacket himself.  His team went 2-8 last year, his first as the Head Coach.  He graduated only 9 Seniors, so his second squad is young but experienced.  Vavra says he wats to introduce an "Old School" feel into the program, looking to get bigger and more physical.   Sprayberry had a good start to their season, beating Lassiter in a scrimmage last week 28-17.  Any win over Lassiter is a big deal.  Just ask anybody who was there last year when South got a win over the Trojans.
Players to watch include Seniors Malik Clark, a Defensive End, and linerbacker Lou Cosmo. Junior standouts Marlon Krakue, a DE, and safety Terry Tan also stood out in the scrimmage.  Senior Aaron Bibbins gets the nod a QB, but Sophomore Kyle Brown will likely get some snaps.  And look out for Jr. Running Back Darnell Mundin, who broke off a long TD run vs Lassiter.
Coach Vavra describes South Forsyth as "physical but unpredictable".  "If we can't match South Forsyth's physicality, we might be in for a long night."  OK, now about that win over Lassiter…
What is South Forsyth bringing to the opener?  Listen to Greg's interview with Coach Jeff Arnette and you'll have the inside scoop.  Then be sure to drop in here tonight starting at 7, (well, we'll go live at 6:30 and maybe drop Coach Arnette's interview in the first thirty minutes for those that missed it today.)   Log on to the home page, scroll down just below the banner, hit the arrow in the radio and yell WAR EAGLE!!!
Here's Coach Arnette with Greg:
Many thanks to the South Forsyth Touchdown Club for helping make this possible!