Coaches Corner:  South Forsyth Head Football Coach Troy Morris joins Greg and Doug ahead of a bye week.
It was a bit tough to review but we made it through.  The 7-6 road loss to North Oconee in Bogart was a tremendous experience regardless of the outcome.  The awesome crowd that surrounded us was as loud as the homestanders across the way.
Of particular interest is Coach Morris' review of special teams.   "We hadn't had a kick blocked in three years, and then we get three blocked in one night".  Plus a look at a SOFO grad's trip into the Dawg House.  Enjoy this podcast, and the Friday night off.
See you next time in the Coaches Corner.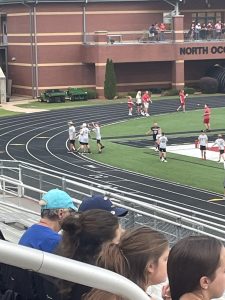 Thats a football game goin on down Thats a football game going on right there.  The North Oconee 8th grade boys are lighting it up pre game.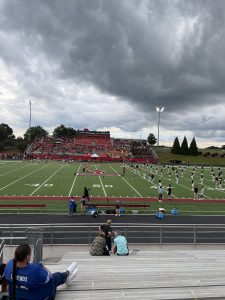 Rain all around us, but never on top of us.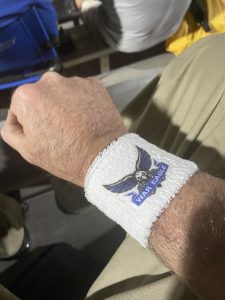 That fancy hat above, and this nasty wrist band came courtesy of the South Forsyth Touchdown Club.  They got me lookin good while I represent on the road.