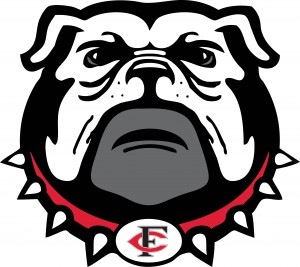 The scoring came early and often in a first quarter that lasted nearly an hour, and it looked like the game would be a shootout.  But timely turnovers, a couple defensive stops and superior depth on the Forsyth Central roster proved to be the difference makers as the Bulldogs took over in the second quarter and rolled to a 63-28 dismantling of Meadowcreek.  A huge crowd, enhanced by the Future Bulldog night, was loud and proud right up to kickoff.  But a 57 yard return by the Mustangs, followed by back to back Bulldog penalties, had Meadowcreek on Central's 4 yard line.  Mustang QB Tristan Harris took it in from there for the early 7-0 lead to quiet the crowd.  But the mood would change back just moments later.  Folks who came to see if Central Senior running back Sabrien Howard could light it up again weren't disappointed.  Howard took his first handoff at the Bulldog 27 yard line stiraight up the middle, slipped a tackle and bounced outside.  Another stiff arm and a couple juke and jives and Howard had a 73 yard touchdown run on his first carry.  Howard finished the game with 211 yards and three touchdowns on just 13 carries, including a 53 yarder in the second quarter in which he simply outran the entire Mustang defense.  Forsyth Central showed a versatile offense in getting four touchdowns from three other players, JR RB Dylan Buchs (2), SR RB Blake Wood and SO QB Brad Thiltgen.  The defense contributed with a pair of pick 6s.  The 63 points is the most the Bulldogs have put up since 1959, when they were known as Forsyth County High School and Elvis was on the rise.  Central tries to build on their third straight 2-0 start next Friday night at Duluth. Listen to the REPLAY of the big night at Bulldog stadium here (copy & paste):
http://mixlr.com/forsyth-sports-365/showreel/forsyth-central-blasts-meadowcreek/
Forsyth County showed up well in a couple of statement games.
West Forsyth defeated 7-A power Hillgrove 56-35 in front of a packed homecoming crowd in The Den behind SR RB Grant Torgersons 5 tds.  The victory could see the Wolverines ranked in the USGA's top 25 for the first time in six years.
And South Forsyth defeated 7-A's 6th ranked South Gwinnett 39-20 at War Eagle Stadium.  The game had a playoff atmosphere similar to South's run in last year's playoffs, and demonstrates the Eagles are beginning to find themselves after graduation took it's toll.
Both wins show the excellent level of play in Forsyth County is no fleeting mountain shadow.
Lambert, trying to build on it's big win over Collins Hill, got behind early and fought back valiantly, but ended up on the short end of a 56-30 loss to Cherokee on Homecoming at the Horn.
North Forsyth had the night off.