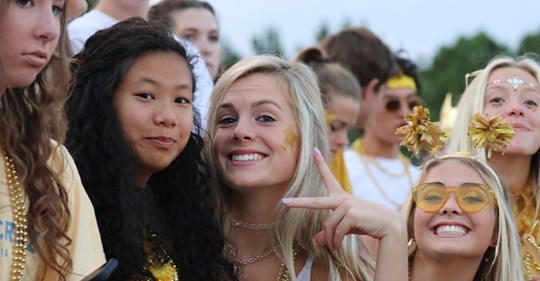 Friday night was as good as it gets in Forsyth County, Georgia, on a Friday Night in football season. There was a terrific match up, on paper anyways, there was pomp and circumstance, a parade of guests lined up for booth visits, and the kind of buzz that makes for a "playoff environment". It was great until just before halftime, when Hillgrove scored on a length of the field run with less than a minute left that stretched the lead from 14-7 to 21-7.
And then, Hillgrove showed why they're one of the best teams in the state. they're experienced, they're big, they're fast, and they're DEEP. Hillgrove went four deep at running back, with three of them, Garrett Wilds, Isaiah McCray and James Maddox, Seniors. Plus a Senior flanker, Trevarus Walker, who racked up around 200 total yards by himself! And two touchdowns by the way. All led by Senior Quarterback Matt McCravy, who threw fo0r nearly 200 yards and a pair of touchdowns. The Hawks cored with less than a minute left in the first, second and third quarters. There kickoffs went deep into the end zone every time, forcing South to start their ensuing drive from their own 20 yard line. The hill just got too tall.
Even with the loss, it was some exciting football, as South stood toe to toe until the final horn blew. There were some brilliant plays from both sides, making for a thrilling podcast. Throw in the five or six guests who dropped by in the pre and halftime breaks.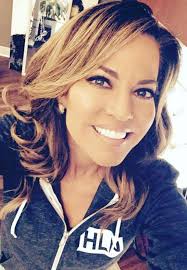 The post game was graced by an unexpected visit from CNN Headline News host of "Morning Express with Robin Meade"… Robin Meade herself! Robin and hubby Tim Yeager were at the game rooting for their nephew Cade Yeager, a member of last year's talented Freshman team and a contributing Sophomore on this year's squad. Our producer and the voice of the Wolverines, Doug Thomas, was stopped by Ms Meade, who told him she listens in all the time and even enjoys the replay of our podcasts.
Doug didn't invite her into the booth. Robin Meade INSISTED on coming up to say hi. It almost didn't happen. When they stepped up I was getting ready to come out of a break. And Robin, the professional that she is, saw that and didn't want to interrupt. Interrupt??? Ma'am this is my show and I'll allow interruptions wherever I feel like it!!
The second I got my mic opened I hollered her name and she came running back to the joy of all in the room Yeah she had her posse with her. But the next few minutes were spent listening to Robin say some really nice things about our call, things that when a pro like Robin says them you kinda smile for a few days after. She even said she has learned more about the game after listening to our calls! NOICE!! Hear it for yourself! You can catch Robyn's special guest appearance, after the game, toward the end of the podcast. Just skip your mouse back and forth across the timeline to advance or retreat. Robin I guess I know that there's a good chance you'll be checking in to this live replay, so thanks so much for that, and for tuning in!
One last note for the crew here…we get Robyn Meade into the booth with all of us there and NOBODY HAS A CAMERA? We are definitely going to have to work on that.
So here you go. Not the results we'd hoped for but a beautiful showing from the SOFO Mob and the rest of the South Forsyth community. Waaaaar Eagles!! South Strong!!
http://mixlr.com/forsyth-sports-365/showreel/hillgrove-42-south-forsyth-19/
Mark your calendars! No game Friday thanks to Fall Break. We'll be back October 11th with the 2019 Homecoming game against Back Fence Rival Lambert. This posted game is a production of Forsyth Sports 365 and the War Eagle Sports Network.