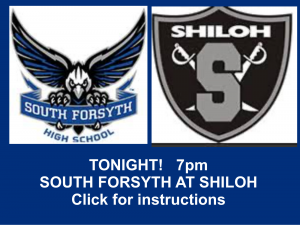 Tonight!  Exclusively on Forsyth Sports 365 dot com.  The War Eagles travel to Snellville to take in the Shiloh Generals in the 2022 season opening scrimmage.
To listen live, return to the home page. Scroll down to the Mixlr i-radio box. Click on the arrow when we're live.  Now you're listening in as Greg Golden and Doug Thomas bring you all the action from this important season starter.  Thanks for logging in and enjoy the game!  LET'S GO SOUTH!!
Remember, the program is recorded and will be posted tomorrow so tell anyone who missed it to log in so they dont miss a minute!